Defending Academic Freedom: Interview with Dr Naif Bezwan
By Guest Blogger, on 11 April 2018
 By Miriam Matthiessen, UCL's Cara Student Ambassador
Dr Naif Bezwan is a scholar from Turkey currently at UCL as a fellow through the Council for At-Risk Academics (Cara).
Founded in 1933 by Britain's foremost academics and scientists to help refugee academics escape Nazi Germany, Cara assists those in immediate danger, those forced into exile, and many who choose to work on in their home countries despite serious risks. UCL has partnered with Cara since 2006.
Dr Naif Bezwan had been an associate professor in the Department of Political Science and International Relations at the University of Mardin Artuklu in Turkey since January 2014, when one day in October 2016, he received the news that he had been indefinitely suspended from his post and all civil service by emergency decree.
This was due to an interview he had given to a Turkish newspaper, which related to core areas of his academic interest and expertise, including Turkey's political and administrative system, accession to the European Union, and foreign policy.
In the interview, Naif stressed the danger of using military force at home and abroad to deal with the Kurdish question and democratic aspirations of citizens at large, through tackling an essentially domestic issue by military means and conducting cross-border military operations.
Only a couple of hours after its publication, he received an order from the university administration, in which his reflections were described as evidence of support for a "terrorist organisation" and "undermining national security", and used as grounds for suspension. The dismissal was issued prior to the outcome of a disciplinary investigation.
Alleged links
Naif is one of a number of academics, teachers and civil servants from Turkey dismissed from their jobs in the aftermath of the failed coup in July 2016.
According to a UN Report, over 100,000 people were reportedly dismissed and suspended throughout Turkey from public or private sector jobs for suspected links with the coup organizers.  Over 40,000 staff were allegedly dismissed by the Ministry of Education, mostly teachers. This included some 10,000 teachers in South- East Turkey, over 90 percent of whom were serving in Kurdish-speaking municipalities.
This was not Naif's first disciplinary investigation. The first one took place in February 2016 after he signed a 'Petition for Peace' together with 36 colleagues and a total of 1,128 academics, calling on the Turkish government to end military operations against its Kurdish citizens. Signatories of the petition were targeted by a campaign of abuse, violence, and death threats.
In many public speeches, the Turkish President Recep Tayyip Erdoğan accused the petitioning academics of "treason", "support for a terrorist organization" and of threatening "national security," which promptly resulted in numerous investigations, suspensions and dismissals.
Naif said he sees a great risk in the increasingly authoritarian regime, which governs the country "essentially through extralegal means unbounded by rule of law and the most basic principles of a democratic and accountable government."
Finding a fellowship
Naif left the country for the UK in November 2016 – just days before the passports of all of his colleagues, subject to the same decree-law as him, were revoked.
In early 2017 he was recommended to apply for a Cara fellowship, for which he was found eligible in February.
He was granted a full fellowship at the Department of Political Science at UCL where he has been working since June 2017, doing research on Turkey's political and administrative system as well as issues of Kurdish Conflict resolution and authoritarianism.
Coming to the UK meant having a breathing space in comparison to his colleagues who were not able to leave the country in time, and are therefore prevented not only from taking public jobs but also from seeking opportunities abroad.
For this reason, Dr. Bezwan continues his scholarly and public engagements as far as he can while in the UK. He is involved in Academics for Peace UK, and together with colleagues, has established a charitable institution, the Centre for Democracy and Peace Research, which aims to provide funding to colleagues in need back home and beyond.
In Naif's own words: "Living in a country without concern of being exposed to harm, unjust treatment and intimidation, having the possibility of living under decent human conditions, and working in a friendly, international and inspiring academic setting, as UCL is, is of immeasurable value.
In a very critical period of my individual and professional biography, the Cara fellowship provides me with an opportunity and essential basis to continue with my life and studies in dignity and safety. The value of this support, and the importance of the institution which has provided, and continues to provide, hundreds of scholars under risk with a dignified foundation for their personal and professional life, cannot be emphasized enough."
https://blogs.ucl.ac.uk/ucl-global/2018/04/11/defending-academic-freedom-interview-with-dr-naif-bezwan/
War abroad, repression at home: Turkey's academics and students caught up in new wave of arrests
10 Apr 2018
BY NOEMI LEVY-AKSU*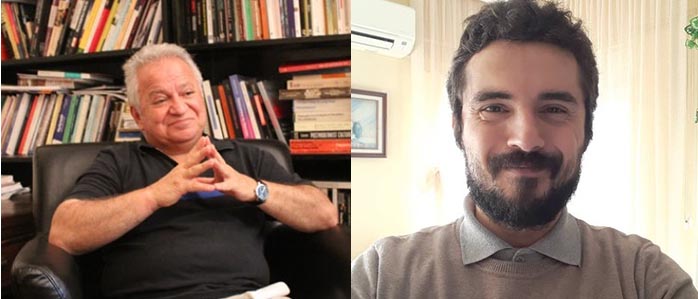 Since Turkey launched a military operation in Afrin, northern Syria, in January, state repression against critical voices has escalated once more. Hundreds of Turkish citizens who expressed their opposition to war, massacres and the displacement of Kurdish civilians have been arrested.
As with two years ago, when a petition by academics against the ongoing war in the Kurdish region was released, demanding peace has been deemed as supporting terror by the government and the pro-governmental media.
On 26 February 2018 a statement from the Ministry of Interior confirmed that 845 people were detained for criticising Turkey's Afrin operation — code-named Operation Olive Branch — on social media and taking part in protests. Each week now brings new arrests on similar grounds, with students and academics caught up in the wave of repression.
In early February two academics, Onur Hamzaoğlu and Serdar Başçetin, were arrested. Hamzaoğlu is a doctor well known for his research into the correlation between industrial pollution and cancer in Kocaeli Province. He was dismissed from Kocaeli University, along with other signatories of the petition, by an emergency-decree after the attempted coup in July 2016. Hamzaoğlu is a co-founder of the Kocaeli Solidarity Academy and a co-spokesperson of the People's Democratic Congress (HDK), a union left-wing parties and civil society organisations, formed in 2011 with the aim of recreating politics and promoting a democratic society against social, ethnic, religious and gender discrimination. He was arrested on 9 February before the HDP Congress and is still detained, together with dozens of party members.
Serdar Başçetin was a research assistant who was fired from Erzincan University by emergency decree. He was arrested in Antalya on 13 February for his support to Nuriye Gülmen and Semih Özakça during their hunger strikes and his posts on Afrin on social media. On 29 March he was acquitted of all charges at the first hearing.
Students at Boğaziçi University, one of the leading higher education institutions in the country, known for its autonomy and liberal traditions, have also come under attack. The so-called "Afrin delight" incident started on 19 March when pro-governmental students opened a stand on campus to distribute Turkish delights in honour of the Afrin expedition and the Turkish soldiers who lost their lives there. Tension raised when students carrying a banner reading "No delight for occupation and massacre" protested against the stand and both groups started to fight. What could have remained an incident indicative of the political tensions that exist between students turned into a pretext for a wide police operation on campus. Arrests began on 22 March when five students were rounded-up in the early morning in the dormitories and homes. A press statement organised on the North Campus condemning these arrests gave way to a violent police intervention and further arrests.
In the days that followed president Erdogan himself condemned the "no delight" students, calling them terrorists and adding that these "communists" and "traitors" would not be given right to education. Academics were warned by the president that there would be consequences if they co-operated with these students.
Some students reported being kept for long hours in a police van, severely beaten, insulted and, for some of them, sexually assaulted before being released. Since then, police have been patrolling the campus, leading to fresh arrests. Some of those arrested weren't even involved in the initial incident. On 3 April, when 15 Boğaziçi students were brought before Çağlayan courthouse, ten were sentenced to pre-trial detention. For their anti-war slogans, they were accused of spreading terrorist propaganda. They remain in prison.
This repression came as no surprise. On 7 January, while speaking at the university on the invitation of a conservative alumni association, Erdogan had criticised the university in the presence of the rector for not being "local and national" enough. Yet Boğaziçi's loss of autonomy had actually started much earlier. In November 2016, showing no consideration for the summer elections that had seen the previous rector re-elected with more than 80% of votes, Erdogan appointed professor Mehmed Özkan, a Boğaziçi academic who hadn't even been a candidate in the election. Despite protests by a small group of academics and students, Özkan's election was greeted with relief by the majority of academics, trusting his promise to protect the liberal tradition of the university and its academic staff. Academic freedom and freedom of expression have come under joint attack from the government and the university administration.
In March 2017 I was dismissed from Boğaziçi, along with professor Abbas Vali, for signing the petition for peace. The Higher Education Council revoked our work permit and the university cancelled our contracts. We were singled out as the two foreign signatories of the petition. Before us, Murat Sevinç, an academic dismissed by emergency-decree from Ankara University, had already been compelled to stop his part-time teaching at Boğaziçi. The rector's justification for our dismissal was the duty to obey orders – the universal excuse of civil servants trying to escape their responsibilities – and the need to protect the institution against further attacks. Fortunately, this view was challenged by some supportive colleagues and an extraordinary mobilisation of students from the history department who set up a tent throughout the Spring term on the North Campus, where they attempted to raise awareness of our dismissal by inviting academics to participate in outdoor lectures and workshops.
Yet it was already clear by then that the attacks against critical academics across the country and the appointment of a pro-governmental rector had dramatically shrunk the space for critique and opposition on campus. As with elsewhere in Turkey, fear of repression and a disillusionment with the possibility for change grew, and with it, self-censorship spread among academics and students.
Since then, things have only worsened for critical academics and students across the country. In October 2017 the Ministry of Justice made public that more than 36,000 students were detained in Turkey, raising to nearly 70,000 when open university students are included. While the number of students currently detained is likely to be even higher, these figures reflect the heavy price paid by critical students, deprived of their liberty and their right to education for expressing their opposition to state policy. Meanwhile, the trial against the Academics for Peace is ongoing in Istanbul and several academics have already been sentenced to a 15-months suspended prison sentence for spreading terrorist propaganda because they signed the 2016 petition. On 4 April, professır Füsun Üstel, from Galatasaray University,  another academic was given a 15-month prison sentence, with the right to appeal the decision.
Aside from the purges, the state authorities encourage a culture of denunciation through dedicated online platforms, where complaints can lead to a police or administrative investigation. The Education Council relentlessly fights against the remaining spaces of academic freedom, relying on the active complicity of most universities' administrative boards. Both academics' right to critique and students' right to education are under threat. After the Boğaziçi incident, the Higher Education Council announced that they considered adopting new disciplinary procedures against students. The same day, in a statement published on Boğaziçi University website, the rectorate denounced terror, welcomed police intervention on campus and announced disciplinary procedure for students who protested against the Afrin expedition, cynically referring to the university's commitment to "freedom of expression" of the other camp.
While an international petition now calls for solidarity with Boğaziçi students, academics and students must find ways to stand together for a free and diverse university, despite the threats, arrests and intimidation.
*Noémi Lévy-Aksu is an historian, currently visiting scholar at Birkbeck College. She is part of the network Academics for Peace-UK and a trustee for the Centre for Democracy and Peace Research.
Turkey's politically motivated trials: Targeting Academics for Peace
23 Jan 2018
BY NOEMI LEVY-AKSU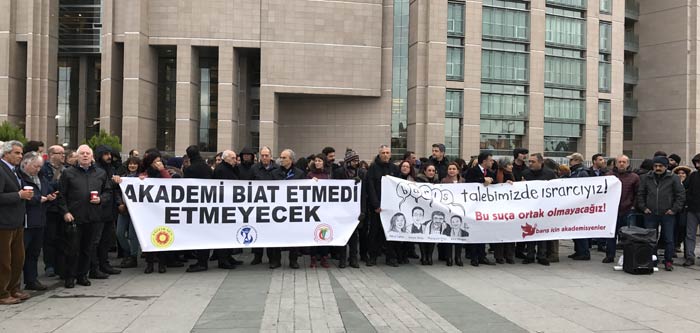 Since January 2016 the Academics for Peace case has become one of the symbols of the crackdown on democracy in Turkey.
No critical voices are spared in the repression: MPs, journalists, lawyers, human rights activists, students and many others are detained and/or have been prosecuted for their opinions and activities.
Each week brings new politically-motivated trials, where anonymous citizens and prominent figures of Turkey's political and cultural life are faced with the most serious of criminal charges. Fundamental rights are put in the dock and go on trial and systematically abused. The week beginning 4 December was no exception, with trials targeting Peoples' Democratic Party (HDP) politicians, dozens of journalists and the first hearings of scholars connected to Academics for Peace.
Academics for Peace are university professors and graduate students who signed a peace petition entitled We Will Not Be a Party To This Crime in January 2016. This statement denounced the government's violations of human rights in the Kurdish regions of Turkey, demanded that access to these areas be granted to independent national and international observers and called for negotiations to secure a fair and lasting peace. The petition was initially signed by 1,128 academics and grew to 2,020 in the weeks after it was released. Since then, the signatories have suffered from multiple forms of repression, including criminal and administrative investigations, detention, dismissals and revocation of their passports. As of December 2017, more than 400 academics have been dismissed and hundreds of PhD students have lost their scholarships.
The repression is now reaching a new stage as signatories have been brought before the Istanbul High Criminal Court. Hundreds have been charged with spreading "terrorist propaganda" under Article 7(2) of Turkey's Anti-Terror Law, which could mean up to seven-and-a-half years in prison. While the indictment has been levelled at the academics as a group, the hearings are individual and distributed over several months. The first hearings were held simultaneously in three different rooms of the Çağlayan courthouse on 5 and 7 December. They offered an insight not just into the deep flaws of the justice system, but also illustrated the determination of the academics to face this new ordeal with firmness and solidarity.
The week started with a day of events organised by the Academics for Peace co-ordination and the education trade union Eğitim-Sen in Istanbul. Meanwhile, several demonstrations and statements of support were released from Europe and the US. On the first day of the hearings, a press statement was organised in front of the courtroom. Besides the defendants, dozens of academics and several international observers were present. While only a few could attend the hearings due to the limited capacity of the rooms, numerous academics and students spent their days at the courthouse to support their colleagues.
The succession of hearings gave an insight into the diversity of the signatories of the petition. PhD students, young lecturers and well-known professors were brought to the court, while a few defendants now settled abroad could not attend. Although all the defendants in that week's hearing came from two universities in Istanbul, many did not even know each other and greeted their alleged partners in crime at the doors of the courtroom, united by the smallest possible common denominator and the only ground for their criminal charge: their signature on the peace petition.
Lawyers had no difficulties in demonstrating the inconsistencies and blatant errors in the indictment. Incomplete or erroneous references to European cases related to freedom of expression, press articles and governmental statements were provided in lieu of evidence, mistranslated terms in English or Kurdish were among the mistakes most often quoted by the defendants' lawyers. Beyond that, they insisted that the indictment was irrelevant and criticised the absence of any concrete evidence to support the charge of terror propaganda. Lawyers also reminded the court of the national and international legal texts, conventions and jurisprudence protecting freedom of expression. They underlined that critical thinking was essential to academic work and that by criticising the state, the defendants had behaved as one would expect of intellectuals. While a majority of academics indicated that they would not offer a statement at this first hearing, some presented a defence that followed the arguments of their lawyers, sometimes providing additional information on their personal and/or academic motivations for signing the petition and sharing how absurd they thought the case was. All the cases were adjourned to a later date, stretching from late December until May.
While the case the Academics for Peace sheds light on the persecution of critical scholars in Turkey, not only academic freedom is on trial there. Indeed, the first hearings gave an opportunity to the academics and their lawyers to remind the court of the context in which the peace petition was released: strong statements recalled how violence escalated in the Kurdish region of Turkey after the June 2015 elections and illustrated the impact of state repressions on civilians in the region — endless curfews, unlawful killing of children, corpses abandoned in the streets or kept in refrigerators, destruction of whole neighbourhoods in Cizre or Diyarbakir. Quoting the reports issued by national and international organisations, including the UN, these defences brought to the forefront the realities behind the words of the petition. Beyond this, some lawyers and defendants used the concepts of state violence, discrimination and racism to contextualise the last few years in the longer history of repression targeting the Kurdish region. As in many of the ongoing political trials in Turkey, the hearings turned into a denunciation of the multiple levels of state repression. The prosecutor and judges showed little reaction to these harsh critiques. Obviously, there was little to object to: like many journalists on trial, the academics were charged for making public what was true and ignored by none.
Finally, these hearings revealed yet again that the justice system in Turkey is at a breaking point. As the prosecutor who authored the indictment remained invisible, it was obvious that the judges and prosecutors had little familiarity with the cases. Appearing increasingly weary of the repetitive character of the hearings, they made a compulsive and ostensible use of their phones while the lawyers and defendants were talking. While the lawyers emphasised that the unique indictment should have resulted in a unique, collective trial, this demand was rejected by the court and a large part of the hearings were devoted to copy-pasting the charges and defences for each of the defendants.
Joining the long list of criminal cases against citizens who dared to express their opposition to the government and its policies, the trial of the Academics for Peace is a new illustration of the political use and abuse of justice to silent all critical voices in Turkey.
Noémi Lévy-Aksu is an historian, currently visiting scholar at Birkbeck College. She is part of the network Academics for Peace-UK and a trustee for the Centre for Democracy and Peace Research.
From Index on Censorship  https://www.indexoncensorship.org/2018/01/turkeys-politically-motivated-trials-targeting-academics-peace/